Cost To Repair Concrete Driveway in Denver
Concrete repair
is almost always less expensive than tearing out existing concrete and replacing it. Repairs are temporary fixes in most cases, nonetheless regular concrete maintenance will definitely help you obtain the longest life out of your
concrete driveway
, walkway or patio. In this post we decided to cover what it would cost to
repair a concrete driveway
(make certain to visit our website for more information).
How much does it cost to repair a driveway in Denver?
This concrete walkway is cracking very badly, the crack needs to be routed and sealed, with some minor patch work as well.
Of course we could not specifically say or state how much a repair would cost without looking at the project in person. It can be difficult to recommend the right service without actually looking at what kind of damage needs to be repaired. So regardless of not being able to see the project in person, here we are going to do our best to share "average concrete repair" pricing and explain a little about different services. It's important to note that the industry is changing every single day and there might be other services available that we haven't covered here. We always recommend completing comprehensive due diligence whenever hiring a contractor of any kind.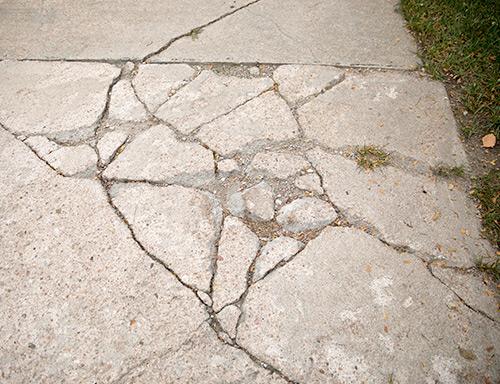 ABOVE, this concrete is in such poor condition that the only option to repair this would be to tear it out and replace the concrete. At least the section affected.
The first thing to determine is what kind of repairs are needed. Sounds simple, but the current concrete driveway really needs to be examined for spalling, major cracking and heaving as well as possible water mitigation issues. So, first step is to start with an inspection of the driveway.
So where to begin? The very first thing we need to determine is what kind of concrete repair is needed. So, even though you see this concrete driveway or concrete patio every single day, take a minute and seriously inspect the concrete. Here we will want to look for concrete spalling, cracking and water erosion around the concrete installation.
Some concrete is in such bad shape that there is no other option but to completely replace the concrete driveway. It's typically very obvious when the concrete is in such poor shape that it must be replaced. Above is a photo of concrete that is so damaged that there is nothing left to do but replace it.
Denver Concrete Repair Services
Restoring Concrete Surfaces
Concrete resurfacing or often times referred to as a "concrete overlay" can bring back the life of your concrete driveway, concrete patio or sidewalk. The service is ideal for most customers as it costs about half as much as replacing a concrete driveway for example.
Denver Concrete Inc
. concrete resurfacing services includes a concrete overlay which is installed over existing concrete. The underlying concrete must be in pretty decent shape in order to complete and overlay properly. When Denver Concrete Inc. resurfaces a concrete driveway or patio, there is a great deal of work that goes into the preparation of the new base before installing and overlay. What is most important with concrete resurfacing is that the new overlay adheres properly to the underlying concrete.
Sealing Concrete Cracks or "Crack Chasing"
If your concrete driveway is cracking, it is important to maintain your concrete so that the issue does not worsen over time. When concrete cracks, especially in Colorado, it becomes even more porous then ever. These cracks allow water to enter the concrete and during extreme freezing and thawing the water is trapped in the concrete and weakening the integrity of the concrete every time it freezes with water inside the concrete.
By waterproofing you concrete driveway and sealing the cracks you are helping to prevent further deterioration and also increasing the longevity of your concrete driveway. It's important when sealing concrete cracks you must prepare the surface before installing any kind of sealant.
Routing the concrete and creating a clean surface for your sealant is imperative for the repair to work properly.
Concrete Driveway Restoration
Denver Concrete Inc. offers "driveway restoration" services. What this means is that the surface of the current concrete or existing concrete is in very good condition it has simply lost its "luster" and has become stained over time. Many homeowners and property owners have contracted with Denver concrete Inc. for their "concrete restoration or concrete rejuvenation" services.
Often times this can be as little as just a power wash but more often times than not it includes a more thorough cleaning of the surface of the concrete. This would include a power wash and then a treatment with muriatic acid, another wash with detergent to remove the acid and then a final rinse. This can really bring back the look and feel of the surface of your stamped concrete patio or stamped concrete driveway.
Concrete Driveway Replacement
Depending on budget, replacing the current concrete is definitely the best fix for repairing broken and damaged concrete. Many times when our concrete experts review potential projects with customers we find improperly installed concrete driveways and concrete patios for that matter. This of course creates a problem in the future such as major cracking, heaving, spalling and other concrete failures.
We have about the average cost to replace the driveway in Denver here on our website. There you will find more detailed pricing explanations and can hazard a good estimate of the numbers provided there.
Mudjacking or Concrete Lifting
Concrete lifting in our experience tends to be roughly the same price as tearing out and replacing the concrete. True, installing new concrete is more expensive but in our experience it is typically only about 20% more than what it would cost to do concrete lifting.
Regardless, concrete lifting can fix many issues. If your concrete driveway or concrete patio has been dropping significantly, it would be a good idea to get a quote from a local mud jacking contractor to find out what the cost would be of lifting the concrete back into place. Mud jacking or concrete lifting is just the process of injecting material underneath the concrete pad in order to fill whatever voids have developed over time. By filling in these voids and applying pressure against the pad from underneath, the concrete actually "lifts" back to where it was originally installed.